TitanHD2
Titan
HD2
Wireless video system
No latency, no transmission delay
Operates on the 5.8Ghz ISM band

Standard Package P/N 917TS0148 includes 1 Tx and 1 Rx.
Possibility to customize kits

Transmission / Range
HD video transmission
5.8GHz on ISM band
Range of 200m/600ft
System / Connection
Tx fed by SDI BNC
2 SDI outpouts on Rx
LED indicators for video and radio link
Pairing
Easy pairing in few seconds
Configuration menu on Rx output stream
1 transmitter for up to 4 receivers

The Transvideo TitanHD2 is a state of the art wireless HD video transmission system capable of connecting to multiple TitanHD2 receivers or StarliteRF.
This system offers stable, remote video monitoring possibilities with no latency and no transmission delay.
Easy to sync and ready to broadcast in just a few seconds.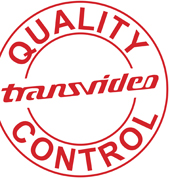 Manufacturing quality
Following Transvideo's reputation for durable build quality, bo th transmitter TitanHD2 Txand receiver TitanHD2 Rx are housed in rugged, water resistant, machined aluminium housing. Built to work. Built to last. No fuss.

Modular system
TitanHD2 is a modular system. You can easily customize existing kits to fit your own production needs by simply adding TitanHD2 Tx or Tx-a, TitanHD2 Rx or StarliteRF.
Up to 4 receivers can be paired with 1 transmitter, giving the possibility to build a local broadcast system.
A StarliteRF can be paired with 2 TitanHD2 Tx to easily switch A-B Cam.
Easy pairing
Pairing operation is esasily managed in only few seconds, with the help of a configuration menu. This menu is embedded in the video stream and is displayed at receiver outputs during configuration.
LED indicators give information about video presence and radio link status
Robust connection
The TitanHD2 system creates a real time monitoring solution with excellent video quality, without latency and without any transmission delay.
TitanHD2 can be mounted on any video monitor.

*Notes
The TitanHD2 Tx (paired with StarliteRF or TitanHD2 Rx) is powered through Lemo2 DC input or Sony L/M series battery back (model discontinued)
The TitanHD2 Tx-a (paired with StarliteRF or TitanHD2 Rx or StarliteRF-a) is powered through Lemo5 DC input or Sony L/M series battery back.



Model
TitanHD2 Tx
TitanHD2 Tx-a
TitanHD2 Rx
Video Input / Output
1 x HD SDI in + Rclk out
2 x Rclk out
Supported HD Standards

720p / 1080p/ 1080i / 1080 psf

Audio
1 channel stereo + SDI embedded
Modulation
OFDM MiMo
Latency
<1ms
Power
5 to 29V DC Lemo2 mini
or Sony L/M battery
5 to 29V DC Lemo5 mini
or Sony L/M battery
9 to 29V DC (-1, +2)
Lemo2 mini (EGG.0B.302 CLL)
Power Cons.

6W nominal

Storage temperature

-40 to +80 °C

Operating temperature

-20 to +55 °C

Dimensions
(l x h x d)

101 x 69 x 23 mm
3.98 x 2.72 x 0.92 inches

119 x 86 x 23 mm
4.69 x 3.39 x 0.92 inches
Weight
220g / 0.49 lbs
245g / 0.54 lbs
Standard Package (P/N 904TS0148)
1 x TitanHD2 Tx-a - P/N 904TS0150
1 x TitanHD2 Rx - P/N 904TS0147
1 x 4.5Ghz BNC-M/BNC.M Cable - P/N 906TS0219 or 906TS0220
1 x Mini 3D Swing Arm for Arri - P/N 918TS0261
1 x Lemo2 mini to D-Tap power cable for Rx- P/N 906TS0170
1 x Lemo5 mini to RS3 power cable for Tx - P/N 906TS0188
1 x USB adapter
Microfiber pouth
All delivered in a hard case with custom foam

Dual Package (P/N 904TS0149)
1 x TitanHD2 Tx-a - P/N 904TS0150
2 x TitanHD2 Rx - P/N 904TS0147
2 x 4.5Ghz BNC-M/BNC.M 1m Cable - P/N 906TS0144
2 x Mini 3D Swing Arm for Arri - P/N 918TS0261
1 x Lemo2 mini to D-Tap power cable - P/N 906TS0170
2 x Lemo2 mini to RS3 power cable - P/N 906TS0169
1 x USB adapter
Microfiber pouth
All delivered in a hard case with custom foam
Also available
Pack StarliteRF-ARRI version Deluxe Kit (2x TitanHD2 Tx-a + 1x TitanHD2 Rx + StarliteRF-a+ HardCase and custom foam + Accessories)
P/N 917TS0143
Pack StarliteRF-ARRI version Ultra Kit (2 TitanHD2 Tx-a + 2 TitanHD2 Rx + StarliteRF-a + HardCase and custom foam + Accessories)
P/N 917TS0144
All prices are exWorks, without VAT

TitanHD2 Tx-a (P/N 904TS0150)
1 x TitanHD2 Tx-a - P/N 904TS0150
1 x 4.5Ghz BNC-M/BNC.M 1m Cable - P/N 906TS0144
1 x Lemo5 to Lemo6 right angle power cable - P/N 906TS0189
All delivered in a robust box
TitanHD2 Rx (P/N 904TS0147)
1 x TitanHD2 Rx - P/N 904TS0147
1 x 4.5Ghz BNC-M/BNC.M 1m Cable - P/N 906TS0144
1 x Cable Lemo2 mini to XLR4-M power cable - P/N 906TS0176
1 x USB adapter
All delivered in a robust box