Starlite
HD-m

"Metadator"
Monitor - Recorder with
metadata agregator

The Missing Link between Cameras, Lenses, Post Productions & VFX
Simple to use - no hassle to set-up
Simple MultiCam use with one monitor per camera
Available for most of top camera brands

Despite of its small form factor, the Starlite
HD-m

is an advanced electronic toolbox

This remarkable monitor provides the necessary tools, whatever the job or the requirement:
For the focus puller (zoom, peaking, focus puller view),
For the script assistant (record/playback, metadata view, PDF report),
For the user of stabilized equipment (virtual horizon),

But the essential power of the StarliteHD-m resides in its ability to gather information from the different smart devices it is connected to :
Metadata transmitted through the SDI signal,
Camera information through the Ethernet link,
Lens metadata through Cooke /i or Zeiss eXtended serial link

Lens file and post production
Recent developments of lenses give access to critical information: shading, distortion map, inertial data or illumination tables that are available through a direct serial connection.
Basic informations are often available through the camera mount and transferred to the HD-SDI output but the advanced data, necessary for the post production and special FX must be collected directly from the lens.
The StarliteHD-m is the missing link - It agregates data from lenses and cameras.
Files are generated onto a SD card and are immediately available to be processed through the plugins developped by the lens manufacturer, providing a non-negligible gain of time. No need of complicated software to do that.
A set of cables is all you need to recover the lens data
HD-SDI BNC cable
Basic lens information provided by Cooke /i, LDS (Arri)
Camera information from RDD18 (Sony) or ARRI protocol.
Lens Reader™
Cooke /i3, /i², /i and Zeiss eXtended basic and advanced metadata.
Ethernet cable
More information gathered to the metadata file.
TC in (Mini Jack 2.5mm)
Gather's precise Time Code (LTC type) from the camera.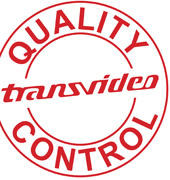 Manufacturing quality
The StarliteHD-m housing is extremely rugged, machined in aviation-grade aluminium
A wide range of accessories is planned, from battery support to detachable sun hood and more.
Starlite
HD-m

compatibility

The figure below also lists the features provided by the StarliteHD-m for different configurations
 

Cameras(1)

 

 

Cables Part Numbers

Lens

Functionalities

SDI

Ethernet Cable*

Lens cable

TC Cable*

Protocols

 ARRI 

Alexa Mini
Alexa SXT / LF

906TS0144
906TS0215
906TS0214
906TS0216
/i3, /i2, /i
and
Extended /i commands
for Lens shading

View Metadata

View Focus Puller

Auto REC

TC

Zeiss lens files:
generated lens file is
complete.
Import with post
production software is
possible;

Data recording is
triggered on master TC,
not on SDI generated TC   

Amira
906TS0144
906TS0225
906TS0214
906TS0217
 Panasonic
Varicam LT
906TS0144
906TS0225
906TS0214
906TS0217
 RED
Epic / Scarlet - DSMC2
906TS0144

906TS0225

906TS0226

906TS0214
906TS0216
 SONY  
Venice
906TS0144
906TS0225
906TS0214
906TS0222
F65
906TS0144
 TBD
906TS0214
 -
F3 / F5 / F55

906TS0144

-
906TS0214
906TS0217
(1) More cameras to come
*   Availabilty of Ethernet and Timecode output may vary depending on cameras.
Model
917TS0142 - Starlite

HD-m

Video Input
1 x 3G/HD/SDI  
Video Output
 1 x 3G/HD/SDI
Supported Standards

3G:   1080 / 50p, 60p
HD:   1080 / 50i, 60i
         1080 / 24p, 25p, 30p
         1080 / 24psf, 25psf
         720 / 25p, 30p, 50p, 60p
SDI:  525 / 60i
         625 / 50i

Recorder
.H264 - with possibility to replay  and convert
 Display type & size
 AMOLED - 5 inches  
 Pixels
1280 x 720  
Contrast ratio
Viewing angle
Brightness
3400:1
±80° H & V
380Nits  
Color temperature
D56  
AvengerLeveler TM

Yes

Power
5-30V DC power input through Lemo2 "0B"
1 GND, 2 VDC
Power Cons.

6W nominal

Battery Socket

Sony type L

External SD Card Slot

Yes

Dimensions
(l x h x d)

144 x 68 x 37 mm
5,66 x 2,67 x 1,45 inches

Weight
270g, 0.6lbs  
SD card specifications
Size
The maximum working size tested on the monitor is 128GBytes.
SDSC, SDHC and SDXC SD Cards are supported to this size.
Capacities over 128GBytes have not been tested.
Format
The SD card must be formatted in FAT32.
The SD card can be formatted by any computer or devices that can format the card into FAT32 File System.
The SD card with less than 64GB storage can be formatted directly from the monitor. For this, go to the Technical Menu / Media Tab section for Stargate and System / SD Format icon for Starlite.
64GB and upper size need a third party formatter.
SD Card Speed Class
As the monitor records directly on the SD card, speed is needed.
SD cards exist in multiple "Classes", each of which describes the maximum speed of the Reading and Writing operations.
Class 10 is required for the Stargate and Starlite to record video.
Models
Samsung and SanDisk models have been tested with the Stargate and Starlite monitors.
We do not guarantee performance with other brands
StarliteHD-m Generic Kit includes:
1 x StarliteHD-m P/N 917TS0142
1 x Power cable Lemo2 mini to RS3 - P/N 906TS0169
1 x HD BNC Cable - P/N 906TS0220
1 x Ethernet cable - P/N 906TS0225
1 x Lemo4 to Lemo4 Lens cable - P/N 906TS0214
1 x Class10 SD card
Microfiber pouch
All delivered in a hard case with custom foam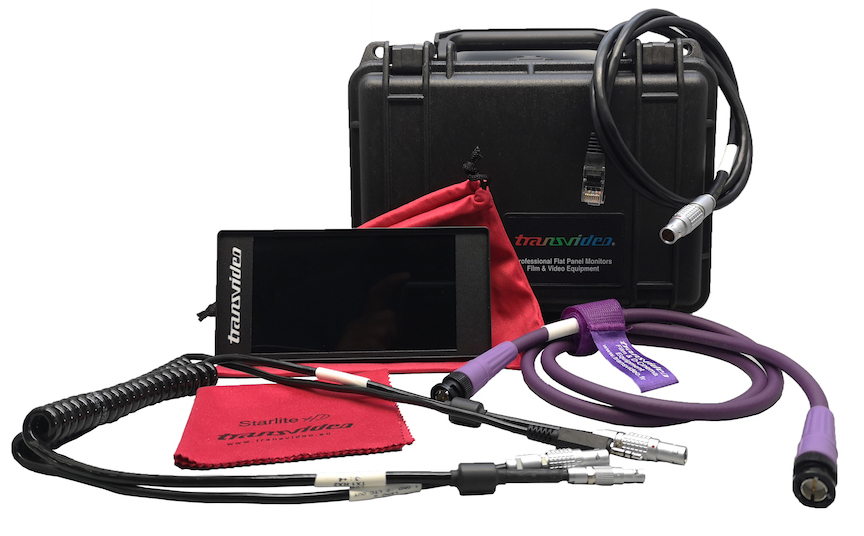 StarliteHD-m Arri Alexa Mini Kit includes:
1 x StarliteHD-m P/N 917TS0142
1 x Power cable Lemo2 mini to RS3 - P/N 906TS0169
1 x HD BNC Cable - P/N 906TS0220
1 x Ethernet to Lemo10 cable - P/N 906TS0215
1 x Lemo4 to Lemo4 Lens cable - P/N 906TS0214
1 x TC cable - P/N 906TS0216
1 x Class10 SD card
Microfiber pouch
All delivered in a hard case with custom foam
StarliteHD-m Arri Amira Kit includes:
1 x StarliteHD-m P/N 917TS0142
1 x Power cable Lemo2 mini to RS3 - P/N 906TS0169
1 x HD BNC Cable - P/N 906TS0220
1 x Ethernet compatible POE cable - P/N 906TS0225
1 x Lemo4 to Lemo4 Lens cable - P/N 906TS0214
1 x TC cable - P/N 906TS0217
1 x Class10 SD card
Microfiber pouch
All delivered in a hard case with custom foam

StarliteHD-m Panasonic Varicam Kit includes:
1 x StarliteHD-m P/N 917TS0142
1 x Power cable Lemo2 mini to Hirose4 - P/N 906TS0192
1 x HD BNC Cable - P/N 906TS0220
1 x Ethernet cable - P/N 906TS0225
1 x Lemo4 to Lemo4 Lens cable - P/N 906TS0214
1 x TC cable - P/N 906TS0217
1 x Class10 SD card
Microfiber pouch
All delivered in a hard case with custom foam

StarliteHD-m Red Kit includes:
1 x StarliteHD-m P/N 917TS0142
1 x Power cable Lemo2 mini to DTap - P/N 906TS0170
1 x HD BNC Cable - P/N 906TS0220
1 x Ethernet cable - P/N 906TS0225
1 x Ethernet to RS232 converter - P/N 906TS0226
1 x Lemo4 to Lemo4 Lens cable - P/N 906TS0214
1 x TC cable - P/N 906TS0216
1 x Class10 SD card
Microfiber pouch
All delivered in a hard case with custom foam

StarliteHD-m SONY Venice Kit includes:
1 x StarliteHD-m P/N 917TS0142
1 x Power cable Lemo2 mini to RS3 - P/N 906TS0169
1 x HD BNC Cable - P/N 906TS0220
1 x Ethernet cable - P/N 906TS0225
1 x Lemo4 to Lemo4 Lens cable - P/N 906TS0214
1 x TC cable - P/N 906TS0222
1 x Class10 SD card
Microfiber pouch
All delivered in a hard case with custom foam

StarliteHD-m SONY F5 /F55/ F3 Kit includes:
1 x StarliteHD-m P/N 917TS0142
1 x Power cable Lemo2 mini to RS3 - P/N 906TS0169
1 x HD BNC Cable - P/N 906TS0220
1 x Lemo4 to Lemo4 Lens cable - P/N 906TS0214
1 x TC cable - P/N 906TS0217
1 x Class10 SD card
Microfiber pouch
All delivered in a hard case with custom foam
StarliteHD-m SONY F65 Kit includes:
1 x StarliteHD-m P/N 917TS0142
1 x Power cable Lemo2 mini to RS3 - P/N 906TS0169
1 x HD BNC Cable - P/N 906TS0220
1 x Ethernet cable - P/N 906TS0225
1 x Lemo4 to Lemo4 Lens cable - P/N 906TS0214
1 x Class10 SD card
Microfiber pouch
All delivered in a hard case with custom foam

Accessories
Viewfinder adapter for StarliteHD range
P/N 918TS0266 - 890,-Euros exWorks
Replacement front part for Starlite lineup
P/N 918TS0267 - 20,-Euros exWorks
Sun Hood for Starlite lineup
P/N 918TS0265 - 80,-Euros exWorks
Buy online

Transportation cover plate
for Starlite lineup
Mini Lemo5 to RS3 power cable - for StarliteHD5-ARRI only
P/N 906TS0188 - 130,-Euros exWorks
Mini Lemo2 to D-Tap power cable
P/N 906TS0170 - 130,-Euros exWorks
Buy online

Mini Lemo5 to 6pin straight Fisher connector
for StarliteHD-ARRI only
Mini 3D Swing Arm for ARRI
P/N 918TS0261 - 150,-Euros exWorks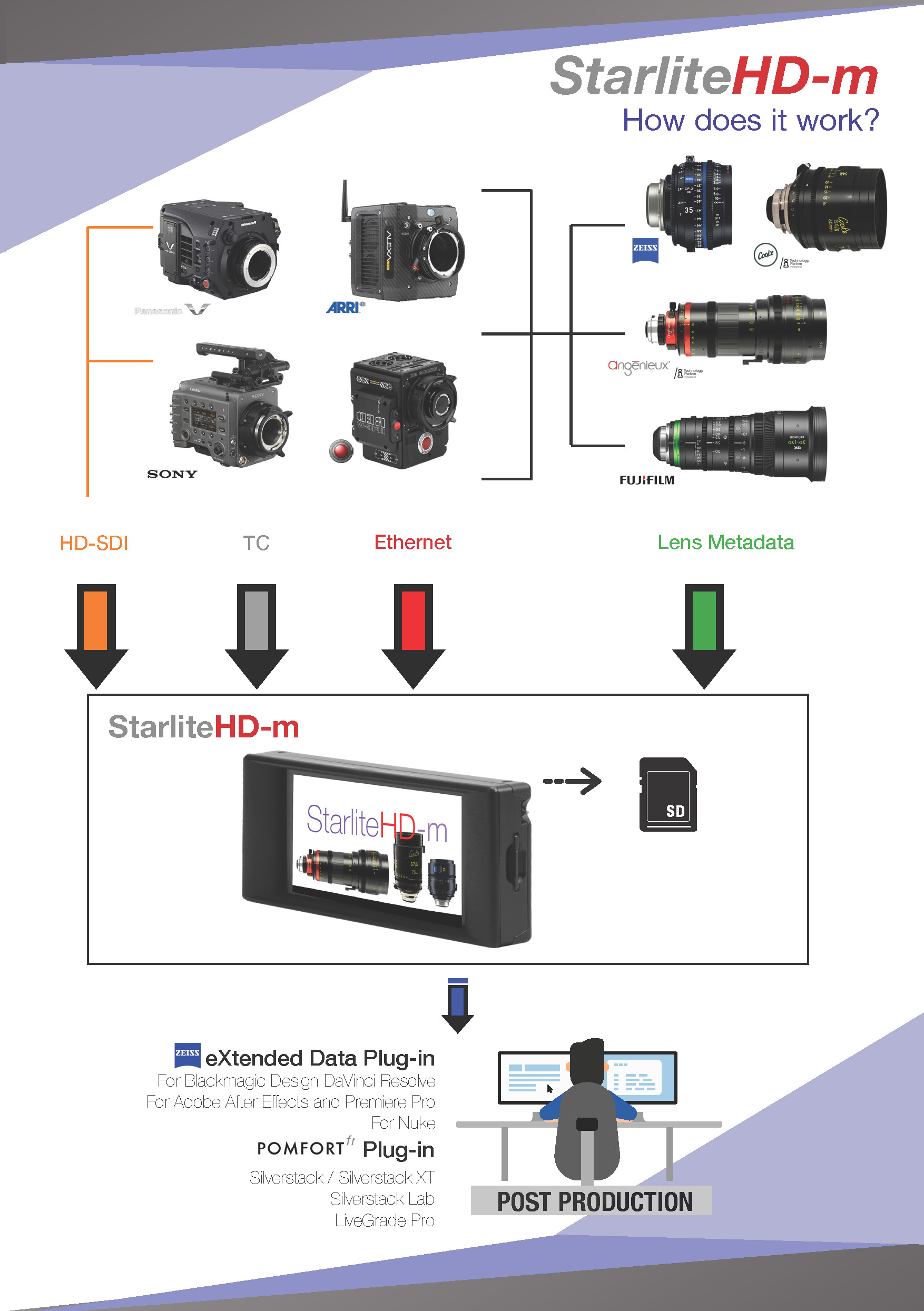 StarliteHD-m leafleft