Stargate
Stargate
7" high-end monitor
3G HD/SD - SDI LCD Monitor - Recorder
With 1920 x 1080 FullHD display
From 2900,*-Euros
* Without VAT - ExWorks, according to models availability

Measurements
Waveforms
Histogram
Vectorscope
False colors
Color / gamma
Factory color calibrated
Input profiles (Rec 709, Log-C, Canon-Log, S-Log, Linear, HDR clipping)
Markers
Cross (Central Cross)
4:3, 14/9
Safe area
1.85:1, 2.40:1
16/9
3D Luts
Possibility to import external 3D Luts
Multiple banks
And more...
Tally Viewer
Record features
VirtualHorizon, ...

An essential production tool for directors and focus-pullers
More than ever the monitor-recorder has become an essential production and engineering tool for those involved in broadcast and cinematography, including directors, D.O.P.s, focus pullers, technical directors and engineers. The Stargate provides all the necessary functions in an intuitive interface with top Transvideo accuracy and reliability.
"Immediate Display" Technology
The Stargate has a fast path processing with a "immediate display' capabilities with no latency. You can get the camera output directly without any introduced delay, increasingly important in many shooting situations
Job oriented views
Pre-programmed modes called 'views', feature a specific set assignment for each job - no need to navigate in deep menus to find the right tools.

Screen Protection
The Stargate monitor is delivered with an anti scratch and anti finger-print protective screen.
It is made with high quality material and magnetic attachment.
Replacement part is available to order online
P/N 918TS0285
Buy online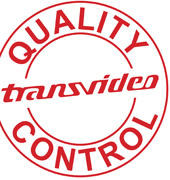 Manufacturing quality
The Stargate has the same manifacturing quality as the CinemonitorHD lineup. It is made with precision milled aluminum housings fully sealed (no holes or noisy fans), state of the art optical glass protecting the screen and galvanic insulation.
Applications
Perfect for Directors, DOPs and Focus Pullers
Every kind of production - cinematography, broadcast, documentaries, sport, studio, location, video village…
Stargate DIT View
The DIT View features the following measurements and tools that are displayed outside of the picture :
Waveform luminance, Vectorscope, Histogram luminance
Audio monitoring, Video input and standard
Timecode, Tally
Battery / power information
Stargate Body-Rig View
The Body-Rig view displays VirtualHorizon, mostly used by Camera Stabilizing devices, called AvengerLeveler™.
Adjustable Range (max tilt on each side that the bubble will show)
Adjustable Limits (definable points where the bubble's color will change)
Possibility to calibrate Horizon
Stargate Full Screen View
The Full Screen View shows only the picture from the first line first pixel to the last line last pixel.
Video Inputs
2 x 3G/HD/SDI
Video outputs
1 x 3G/HD/SDI (processed)
1 x 3G/HD/SDI (reclocked)
Recorder
.H264, .MP4
Display
LCD 7 inches
Picture zone 1920 x 1080
Supported Standards
3G: 1080 / 50p, 60p
HD: 1080 / 50i, 60i
1080 / 24p, 25p, 30p


1080 / 24psf, 25psf


720 / 25p, 30p, 50p, 60p
Contrast ratio
Viewing angle
Brightness
1200:1
±85° H&V
800Nits
White point calibration
D65 ITU-R BT.709-5 & D56
Color space
Rec. ITU-R BT.709-5
AvengerLeveler TM

Yes

Tally LED

Yes

Power
XLR4 connector or battery adapter (optional)
10 - 36V DC
Power Cons.

22W nominal

External SD Card Slot

Yes

Dimensions
(l x h x d)

208.2 x 116.7 x 42.25 mm
8.2 x 4.59 x 1.66 inches

Weight
770g, 1.7lbs
Package includes :
1 x Stargate (P/N 917TS0126) with screen protection (P/N 918TS0285)
1 x Thin BNC cable
1 x 3D Swing arm including adapter for Arri Alexa/Amira P/N 918TS0256
1 x XLR4-F to RS3 power cable - P/N 906TS0010
Microfiber cloth and bag
All in a hard case with custom foam

Below accessories are also available :
Heavy Duty U-Shape holder for Stargate, constant torque only
P/N 918TS0291
Yoke for Stargate - multi-rods, constant torque only
P/N 918TS0283
P/N 918TS0202A for Anton-Bauer, P/N 918TS0202V for V-Mount
Buy online
Sun Hood for Stargate
P/N 918TS0284
Screen Protection replacement part for Stargate
P/N 918TS0285