Mounting systems
Transvideo Body-Rig and Steadicam™ mounting systems
Our yoke mounting systems attache to the center of gravity of the monitor.
They use a constant torque rotating system, allowing the user to adjust the monitor position without using any tool.
Compatible with the most prestigious professional body-rig and camera stabilizer systems: Betz-tools™, MK-V™, PRO™, Sachtler™ Artemis, Steadicam™ ...
Universal multirod bracket
You change the inserts depending on the rods you have and you adjust the separation before securing the fixation.Currently available diameters: 19mm, 16mm 5/8", 15mm and 1/2" (1/2" is for PRO™)
Available for CineMonitorUHD 6", CineMonitorUHD 8" and Stargate
Other Yoke mounting systems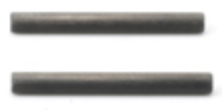 16mm rods (5/8")
2x 16mm (5/8") rods with 150mm length
PN 918TS0223 -
Buy





Clamp for slide

To mount a monitor on a spigot or on Steadicam™ EFP, III,

IIIA, Pro™, Artemis™ body-mount sleds.

P/N 918TS0131 -

Buy online

Spirit Level

Adjustable bubble and mounting system. To mount a

monitor on a spigot or on Steadicam™ EFP, III,

IIIA, Pro™, Artemis™ body-mount sleds.

P/N 918TS0085 - for Rainbow -

Buy online

P/N 918TS0086 - for CineMonitorIII -

Buy online
Silver Spigot

Bridge 60-15

P/N 918TS0219 - Fits on 15mm rods with

60mm spacing -

Buy online

Bridge 89-16 / 3.5-5/8"

P/N 918TS0129 - Fits on 16mm (5/8") rods

with 89mm (3.5") spacing -

Buy online

Bridge 76-16 / 3-5/8"

Fits on 16mm (5/8") rods with
76mm (3") spacing - Discontinued

16mm rods (5/8")

2x 16mm (5/8") rods with 150mm length

PN 918TS0223 -

Buy online

Artemis™ Kit

Kit includes:
- 1x 918TS0221 Bridge Artemis
- 1x 918TS0223 Pair of 16mm rods
- 1x 918TS0129 Bridge 89-16
- 1x 918TS0138 Silver Spigot
- 1x 918TS0131 Clamp for slide

P/N 918TS0226 - Buy online

Betz™ Kit

Kit includes:
- 1x 918TS0206 Bridge Betz
- 1x 918TS0223 Pair of 16mm rods
- 1x 918TS0129 Bridge 89-16
- 1x 918TS0138 Silver Spigot
- 1x 918TS0131 Clamp for slide

P/N 918TS0207 - Buy onlne

Master™ Kit

Kit includes:
- 1x 918TS0222 Bridge Master
- 1x 918TS0223 Pair of 16mm rods
- 1x 918TS0129 Bridge 89-16
- 1x 918TS0138 Silver Spigot
- 1x 918TS0131 Clamp for slide

P/N 918TS0153 - Buy online