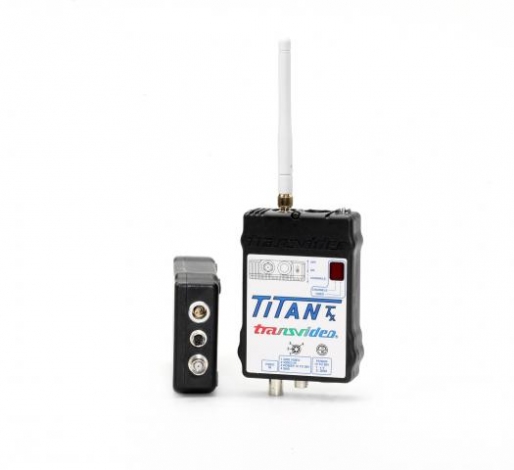 Titan is ideal for all Body-rig operators: the signal remains stable even when both the Transmitter and the Receiver are in motion.
Titan is very user friendly: the 4 channels are pre-dialed and accessible with the flip of a switch. No tools required.
Titan Tx operates on 9-36v DC via the Lemo 2 or the Hirose 6 connectors. The Hirose 6 connector carries video in and accepts DC in.
Input / Output
1 x CVBS (BNC & Hirose6)
Frequency Band
Transmit. Power
2.4GHz FM
10mW
4 Frequency Channels
 
 
 
A=2412.5 MHz
B=2427.5 MHz
C=2442.5 MHz
D=2457.5 MHz
Dimensions
(l x h x d)
105 x 72 x 25 mm
4.1 x 2.8 x 0.9 inches
Weight
200g, 0.4lbs
Power Input /
Power Consumption
Lemo2 (+1, -2) & Hirose 6
10 - 36V DC / 1.9W
Operating Temp.
Storage Temp.
-25°C +65°C
-40°C +80°C
What's included in the box:
1 x Titan Tx (transmitter)
1 x Articulated antennas
Printed documentation
Product description

This article contains one Titan Tx transmitter.

Titan transmits and receives NTSC, PAL & SECAM color signals as well as Black & White.

Titan Rx & Tx weighs 7oz (200g) each. Very compact they can be easily velcroed to any camera or monitor.

It also can be used in conjunction with any monitor.

Specifications

Input / Output
1 x CVBS (BNC & Hirose6)
Frequency Band
Transmit. Power
2.4GHz FM
10mW
4 Frequency Channels
 
 
 
A=2412.5 MHz
B=2427.5 MHz
C=2442.5 MHz
D=2457.5 MHz
Dimensions
(l x h x d)
105 x 72 x 25 mm
4.1 x 2.8 x 0.9 inches
Weight
200g, 0.4lbs
Power Input /
Power Consumption
Lemo2 (+1, -2) & Hirose 6
10 - 36V DC / 1.9W
Operating Temp.
Storage Temp.
-25°C +65°C
-40°C +80°C

Features

Titan is ideal for all Body-rig operators: the signal remains stable even when both the Transmitter and the Receiver are in motion.

Titan is very user friendly: the 4 channels are pre-dialed and accessible with the flip of a switch. No tools required.

Titan Tx operates on 9-36v DC via the Lemo 2 or the Hirose 6 connectors. The Hirose 6 connector carries video in and accepts DC in.

Weight
Dimensions

Dimensions:

105 mm × 72 mm × 25 mm
---