Special NAB 2017
Newsletter
Special NAB 2017
Dear Partners,
We've had some exciting collaborations and products recently here at Transvideo and thought we would share some of the exciting news with you all. Among the full line-up of our StarliteHD, All new Stargate FHD, and CinemonitorHD XSBL versions, here is a taste of what we have been up to, and news of some exciting new offers. We will also be attending NAB, Las Vegas Convention Centre this month along with Aaton Digital, so do come and see us in the main hall booth C2661.
We are also pleased to announce that the StarliteRF is now available with the Arri Control functions was standard. This offers camera functionality controls to the Alexa Mini and Amira models wirelessly via the Titan2 Transmitter.
The "T" Team.
Visit us Booth C2661

Transvideo will be hosting our booth at NAB this year along with Aaton Digital to show the StarliteRF and Stargate. You can also see Transvideo product with our partners: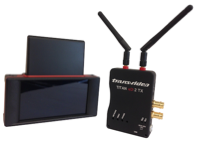 Aaton Digital - Booth C2661
AbelCine - Booth C8215
Angenieux - Booth C9039
ARRI - Booth C7925
CANON - Booth C4325
Camadeus / C-motion - Booth C8636 / C1202
The Tiffen Company - Booth C6019
Transvideo Intl (Independent reseller) - Booth C7046
XD MOTION – Booth C1756DP
ZGC Inc./CookeOptics Limited - Booth C5414.
Stargate
Our next generation of high-end 7" monitor on a 1920 x 1080 FullHD display with no latency. Made for focus pullers, cinematographers, camera operators, stereographers, Steadicam…
800 Nits screen luminance, including LensReader, CineMultiTrack, 3DView tools and more functionalities.
Available now to order.
TitanHD2 special offers for NAB
We've been hard at work to offer very special offers on our TitanHD2 Range of RF Transmitters and made created some new kits available to order right now. These offers include the new ARRI version of StarliteRF.
Offer Examples
TitanHD2 Tx & Dual Rx Kit
1x Tx + 2X Rx + Accessories
Now 5000euro - Save 2900euro
StarliteRF + TitanHD2 Tx
Now 5000euro - Save 1400euro
StarliteRF-Arri Version DeLuxe Kit
2x Tx + 1x Rx + 1x StarliteRF + Accessories
Now 9000euro - Save 2800euro
StarliteRF-Arri Version Ultra Kit
2x Tx + 2x Rx + 1x StarliteRF + Accessories
Now 10,300euro - Save 4000euro
*See new NAB Pricelist online or contact us below for details
StarliteRF
New version of the StarliteHD 5" monitor with a wireless receiver built in. We are now able to offer User Control functions of the Arri Alexa Mini and Amira as standard with every StarliteRF.
Small and lightweight
Incorporated wireless video connectivity without latency.
ARRI user functions include:
User Menu - Choose between camera assignable buttons
PLAY Menu - Prev; Play; Next
CTRL Menu - Adjust all displayed functions above the frameline : FPS; Shutter Angle; Exposure (EI);ND Control; White Balance; Color Bias.