Cinemonitor
HD
RF
The ultimate director's finder
5500,*-Euros
* Without VAT - ExWorks, package price according to models availability.
   Monitor only available from 3900,-Euros.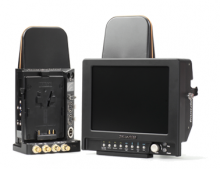 Real time monitoring
Based on the CineMonitorHD Evolution, the CineMonitorHD RF features all the tools of its counter parts plus the ability to receive a wireless signal from a TitanHD. It carries RGB and YCrCb 10-bit signal (HD SDI and HDMI), as well as SD SDI and composite. It will transmit without any loss in a normal environment. With a latency below 5ms, the CineMonitorHD RF provides real time monitoring.
Plug & Play
Setting up the CineMonitorHD RF with its transmitter is really easy. Once they have been paired, they can work for hours. There is no need to pair the modules at each start-up. In automatic mode transmitter and wireless monitor will find together the best available channel. Several advanced possibilities allow to re-link faster in case of signal loss, or to set one wireless system on upper channels while another is set on lower channels.

Link
The channel selection can be manual or automatic. In Broadcast mode up to 6 receivers can be linked to a single transmitter. In P2P mode the link is possible only between one receiver and one transmitter, but data transmission from receiver to transmitter is possible (S/N ration & GPI/GPO).
Audio & Metadata
CineMonitorHD RF provides an audio monitoring output when audio transmission is turned on on the TitanHD. Timecode and Tally (REC on/off) transmission are possible in place of one audio channel (if any embedded in the SDI). It can also remote basic functions to the transmitter through GPI/GPO.
Models
8"

 

SBL RF

Video Inputs

1 x HD/SD SDI in + Rclk out (BNC)




1 x mini HDMI in




2 x HD/SD SDI RF out (BNC)

Supported HD Standards

480p / 576p / 720p




1080p / 1080i / 1080psf

  

Supported SD standards

NTSC (M, J, 443) / PAL (M, BG, N) / SECAM




SD SDI 525 / 625

Modulation

COFDM MiMo

Latency
5ms
Display type

AMLCD

Pixels

Picture zone 960 x 540

  

White point calibration

D65 ITU-R BT.709-5 & D56

  

Color space

Rec. ITU-R BT.709-5

  
Contrast ratio
900:1

Viewing angle

±80° H




+60/-80° V

Brightness (Nits)

1000
Power
XLR4 connector or battery adapter (optional)
10 - 36V DC  
Power Cons.

29W

Length (mm/inc.)
Height (mm/inc.)
Depth (mm/inc.)

215 / 8.5
276 / 10.9
100 / 3.9

Weight

2120 / 4.7

Storage temperature




Operating temperature

-40°C +80°C




-20°C +55°C

  
CineMonitorHD8 SBL RF + TitanHD Tx Special Bundle package includes :
1 x CineMonitorHD RF

1 x Padded suede shoulder strap

1 X Carbon handle

1 x TitanHD transmitter

1 x Screen protective cover
1 x USB adapter for SW updates
Microfiber cloth and bag
All in a hard case with custom foam
CineMonitorHD8 SBL RF package includes :
1 x CineMonitorHD RF, with 2 shoulder strap pins and 1 bottom slide
1 x Screen protective cover
1 x USB adapter for SW updates
Microfiber cloth and bag
All in a hard case with custom foam