Cinemonitor
HD
3Dview RF
The wireless S3D toolbox
5500,*-Euros
* Without VAT - ExWorks, according to models availability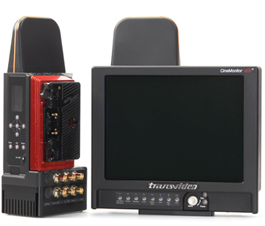 TitanHD Tx 3DView
An extension of the TitanHD, the TitanHD Tx 3DView transmits 3D-stereoscopic side by side pictures without any loss. It accepts HD SDI or HDMI 10-bits signals and includes an embedded synchronizer, ideal for non-genlocked cameras (like DSLRs).
Vertical and horizontal flips may be applied to each signal, before transmission. Two processed outputs deliver the synchronized signals, as left and right or side by side.
Like its 2D counterpart, the TitanHD Tx 3DView can be stacked between camera and battery (Anton-Bauer or V-Mount). It can also be mounted with a 3D swing arm. TitanHD Tx 3DView can be used with a CineMonitorHD 3DView RF or with a conventional TitanHD Rx. In this case the receiver delivers side by side signals to its outputs.
CineMonitorHD 3DView RF
An extension of the CineMonitorHD 3DView Evolution, the CineMonitorHD 3DView RF features the same 3D tools kit plus the ability to receive a wireless 3D-stereoscopic side by side signal from a TitanHD Tx 3DView. It can also be used for regular 2D HD productions.
The CineMonitorHD 3DView RF includes multiple display modes to evaluate stereoscopic convergences and camera correlation. The measurement tools (waveform & histogram) display the 2 signal simultaneously.
With a shoulder strap or harness, the CineMonitorHD 3DView RF is the perfect stereographer's wireless system, giving the possibility to use S3D tools free of wires.
S3D Features
Anaglyph red/cyan
Anaglyph green magenta
Anaglyph blue/yellow
Monochrome
Embedded synchronizer
Vertical and horizontal flips
Derobe's grid
Horizontal shift
Black and white
Color
Shutter glasses

Real time transmission
With a latency below 5ms, the CineMonitorHD 3DView RF and TitanHD Tx 3DView provide real time monitoring. Setting up the wireless monitor with its transmitter is really easy. Once they have been paired, they can work for hours. There is no need to pair the modules at each start-up.
Link
The channel selection can be manual or automatic. In Broadcast mode up to 6 receivers can be linked to a single transmitter. In P2P mode the link is possible only between one receiver and one transmitter, but data transmission from receiver to transmitter is possible (S/N ratio & GPI/GPO).
Audio & Metadata transmission
The CineMonitorHD 3DView RF provides an audio monitoring output when audio transmission is turned on on the transmitter. Timecode and Tally (REC on/off) transmission are possible in place of one audio channel (if any embedded in the SDI). It can also remote basic functions to the transmitter through GPI/GPO.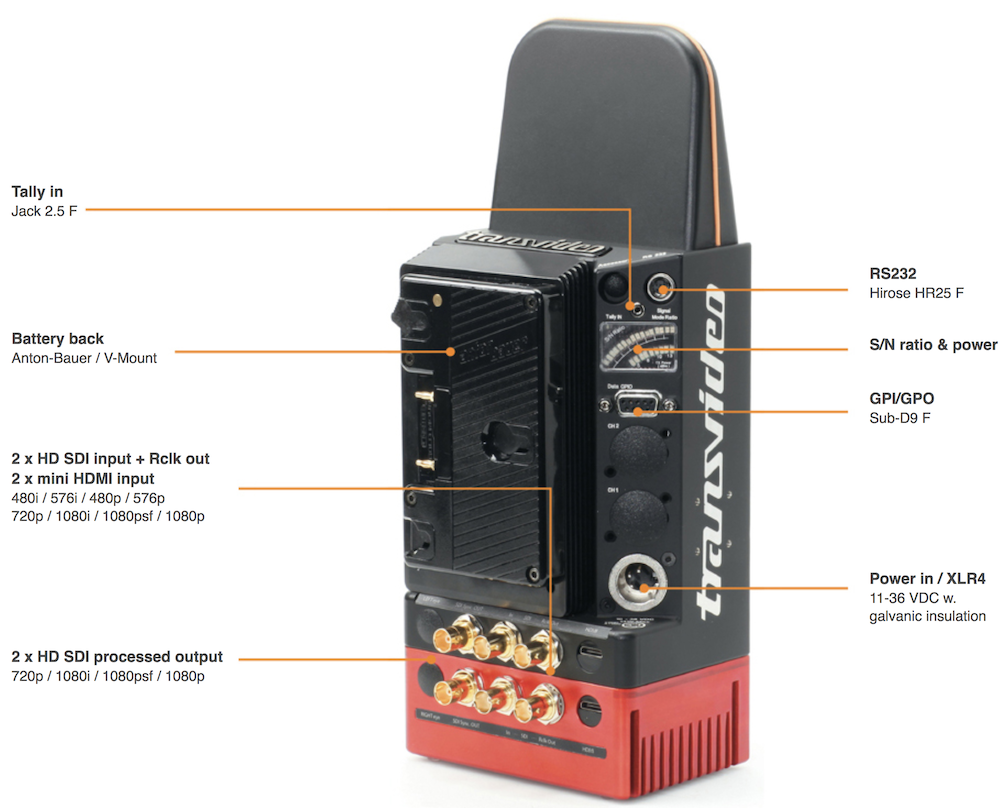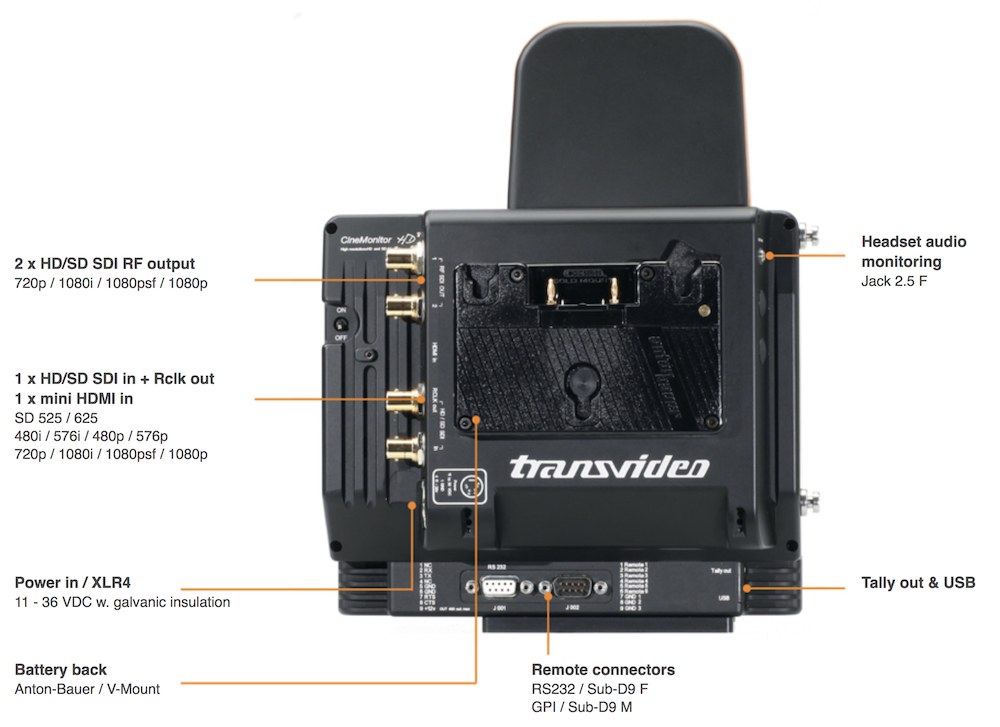 Models
TitanHD Tx 3DView
8" SBL 3DView RF
Video Inputs
2 x HD SDI in + Rclk out
2 x mini HDMI in
2 x HD SDI processed out
1 x HD/SD SDI in + Rclk out
1 x mini HDMI in
2 x HD/SD SDI RF out
Supported tandards
480i / 576i / 480p / 576p
720p / 1080p / 1080i / 1080psf
Modulation
 COFDM MiMo
Latency
5ms
Display type
-

AMLCD

Pixels
-

Picture zone 960 x 540

White point calibration
-
D65 ITU-R BT.709-5 & D56

Color space

-
Rec. ITU-R BT.709-5
Contrast ratio
-
900:1
Viewing angle
-
±80° H
+60/-80° V
Brightness (Nits)
-
1000
Power Cons.
32W

29W

Length (mm/inc.)
Height (mm/inc.)
Depth (mm/inc.)
121 / 4.8
302 / 11.9
102 / 4.0

215 / 8.5
276 / 10.9
100 / 3.9

Weight
1630 / 3.6
2120 / 4.7
Storage temperature
Operating temperature
-40°C +80°C
-20°C +55°C
Monitor package includes :
1 x CineMonitorHD 3DView RF
2 x Shoulder strap pins
1 x Bottom slide
1 x Screen protective cover
1 x USB adapter for SW updates
Microfiber cloth and bag
All in a hard case with custom foam
TitanHD Tx 3DView package includes :
1 x TitanHD Tx 3DView
1 x USB adapter for SW updates
All in a hard case with custom foam